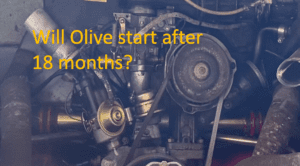 At the start of April we uncovered Olive for the first time in 18 months. We had planned to restore her earlier but having had a busy couple of years we never managed to find the time.
We did a short video of us uncovering Olive back in April and posted it to our YouTube channel for anybody who would be interested.
Following on from that video we have now recorded another, in this video we try to see if she will start-up and if we can get her to move after being stationary for so long. Will she start and will we get her to move? We don't want to spoil the fun for you enthusiasts so take a look at the video by clicking this link here and find out.
We have also decided to keep with this theme and video all the jobs and adventures we will have with Olive so look out for more episodes. We will post them on our website in this section once we have created them.