For those of you following the progress we're making restoring and getting Olive back on the road we have now managed to inspect and adjust the rear brakes. With Olive being stood for over 18 months these are essential checks required before we even attempt to drive her out on the open road. There is some good news and bad news though in terms of what we found.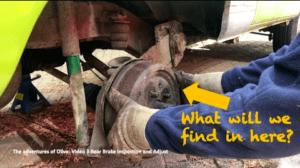 With Lucy showing an interest in camper van maintenance we set about removing the rear wheels and drums to uncover the brake mechanism. It was with relief that we found nothing untoward in here. The brake shoe itself had plenty material left, no leaks on the cylinder and the handbrake worked. A quick clean and adjust of the shoes later the drums were back on.
However, as with most things Type 2 related there is always something else you uncover. Once we had the wheels removed we identified a tear in the drive shaft boot, actually we identified a tear on both sides (Lucy finding the one on the near side) and also some slight corrosion on the brake lines (these were an MOT advisory anyhow). So more jobs for the list.
The brake lines are interesting (if you like this sort of thing) as they don't seem that easy to get hold of. Also our research so far seems to result in copper lines only being available whilst these campers were fitted with steel or kunifer lines. Kunifer being a copper nickel alloy. The next issue is the fitting, some of the pre-assembled lines seem to be supplied with the wrong flare to what is specified. So further investigation is required here. Our thoughts at the moment are to buy a length of kunifer line and a flare tool so we can make our own. Watch this space.
If mechanics and repairs aren't your thing we hope to very soon include trips out around the North West and beyond with Olive to get your adventure juices flowing and give you some inspiration to visit places and even hire one of our campers and get out and enjoy all the UK has to offer yourself. This especially more so now given the disruption we"re hearing about to flights abroad during this pandemic.
There is a video available for those mechanically minded if interested by clicking on this link here.
We do have a YouTube channel too and this has various camper and motorhome related videos which we have put together for information and interest for our customers. This is the link to our channel. Please subscribe and also get in touch if there is anything your'd like to see here. We would also be interested to hear about your ideal camper or motorhome holiday and what your ideal camper or motorhome would be for your trip.